The social media giant- Instagram needs no introduction. Every day we spend a great deal of time scrolling through other people's lives. These could be our friends and acquaintances, but everyone follows at least some celebrity or the other. We constantly keep in touch with what they post. Therefore, it is no wonder that these Instagram Influencers are continuously increasing in numbers and profiting from this career.
Hopper HQ posts the Instagram Rich List every year where you can see how much your favorite celebrities earn through sponsored posts. Let's look at how much celebrities have been earning on Instagram until now in 2020.
But before that, do you know who has the highest followers on Instagram in 2020?
The answer is Cristiano Ronaldo. However, in spite of being the highest followed celebrity, he does not top the list of the highest earning celebrities. He ranks second in the list.
So, then Who gets paid the most per Instagram post?
And that's Dwayne Johnson, our very own The Rock.
But, let's get into the statistics more deeply and look at the highest paid Instagrammers list.
1. Dwayne Johnson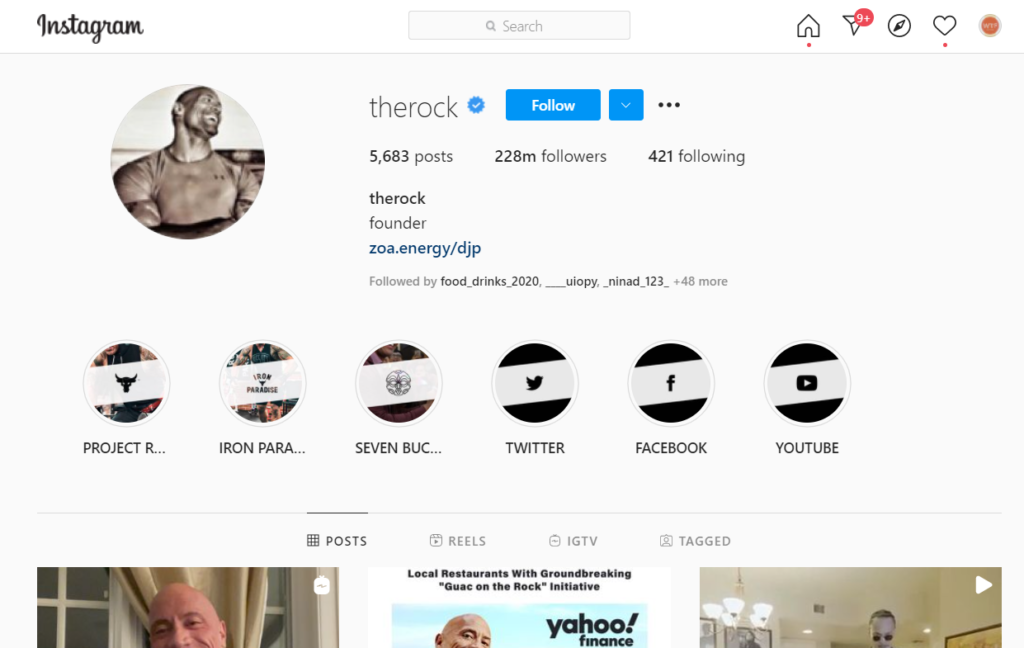 Followers-  228 Million
Earning per post- $1,015,000
Dwayne Johnson, famously known as The Rock is the highest-paid Instagram celebrity until now in 2021. He is an American-Canadian actor, producer, retired professional wrestler, and also a football player. Considering his dynamic and multi-faceted personality, it is no wonder that he is followed all across the world. He has a net worth of approximately $320 million. Dwayne Johnson is most famous for his Fast and Furious Franchise.
Instagram Profile- Dwayne Johnson
2. Kylie Jenner
Followers- 225 Million
Earning per post- $986,000
Topping the list for two consecutive years, Kylie Jenner dropped to the second rank in mid-2020. Kylie Jenner is an American Media Personality, model and businesswoman. In 2019, she topped the list of the youngest billionaires in the World.
Instagram Profile- kylie Jenner
3. Cristiano Ronaldo
Followers- 276 Million
Earning per post- $889,000
Cristiano Ronaldo is a professional Portuguese footballer who captains the Portugal Football team. He enjoys a massive fan following across the globe and is also a brand ambassador of various international brands.
Instagram Profile- Cristiano Ronaldo
4. Kim Kardashian
Followers- 214 Million
Earning per post- $858,000
Kim Kardashian is an American celebrity, model, actress and businesswoman. She rose to fame after starring in a TV series based on her family. She has created her own cosmetic line- KKW Beauty. She is hugely popular on social media and garners tremendous media attention and publicity.
Instagram Profile- Kim Kardashian
5. Ariana Grande
Followers- 231 Million
Earning per post- $853,000
The award winning, American Singer, writer, actress Ariana Grande needs no introduction. Her recent titles "Thank you next" and "7 rings" have been featured on music billboards worldwide. It is her who carried the signature ponytail like a boss. None but a celebrity like her can create such a style for others to remember and imitate for years to follow.
Instagram Profile- Ariana Grande
6. Selena Gomez
Followers- 221 Million
Earning per post- $848,000
The Disney sensation Selena Gomez rose to become the star she is now. Her recent album "Rare" has been chart-topping. Having battled Lupus for two consecutive years, she is truly an inspiration to follow.
Instagram Profile- Selena Gomez
7. Beyonce Knowles
Followers- 172 Million
Earning per post- $770,000
Beyonce Knowles is an American Singer and a Grammy award winning artist. She launched her first solo album "Dangerously In Love " in 2003 and from then on there's no stopping by. She has won 21 Grammys till now.
Instagram Profile- Beyonce Knowles
READ ALSO: Top 10 Dogs Instagram Accounts Of 2020
8. Justin Bieber
Followers- 170 Million
Earning per post- $747,000
The "Baby" sensation Justin Bieber has been a heartthrob for many women across the world. Infact, the song still delivers major nostalgic vibes to Gen Y. His recent title "Yummy" has been a chartbuster as well. There's no point denying that Justin Bieber is a guarantee of a smashing chartbuster.
Instagram Profile- Justin Bieber
9. Taylor Swift
Followers- 153 Million
Earning per post- $722,000
Taylor Swift is an American singer and songwriter who gained massive popularity with her solo lead track "Love Story". The majority of audiences encountered her for the first time through the track. She is one of the highest-selling artists of all times. However, she is quite infamous due to various controversies and has been a centre of negative publicity. But, be it in a negative or positive light, she knows how to be in the news.
Instagram Profile- Taylor Swift
10. Neymar da Silva Santos Junior
Followers- 148 Million
Earning per post- $704,000
Neymar Junior is a Brazilian footballer who has risen to fame recently and is counted among football legends like Ronaldo and Messi. He is the most expensive footballer of all times. An inspiration truly, and hence one of the top Instagram accounts to follow.
Instagram Profile- Neymar Jr
11. Virat Kohli
Followers- 108 Million
Earning per post- $296,000
The Indian Cricketer Virat Kohli leads the Indian Cricket Team. He is regarded as one of the best batsmen in the world. The Indian skipper has quite a lot of brands in his kitty. His marriage with Bollywood actress Anushka Sharma also garnered tremendous media attention in addition to the love and reverence he already enjoys from his fans.
Instagram Profile- Virat Kohli
Here's to the Instagram biggest earners who have made a remarkable mark in their respective fields and are followed by people throughout the world.
Hope you enjoyed reading.
Keep following and keep reading!
READ ALSO: Top 15 TV Shows to Stream when Bored